Claude Samuel Zanele, Bieke Depoorter and Collection In Transit
Exhibitions fall 2018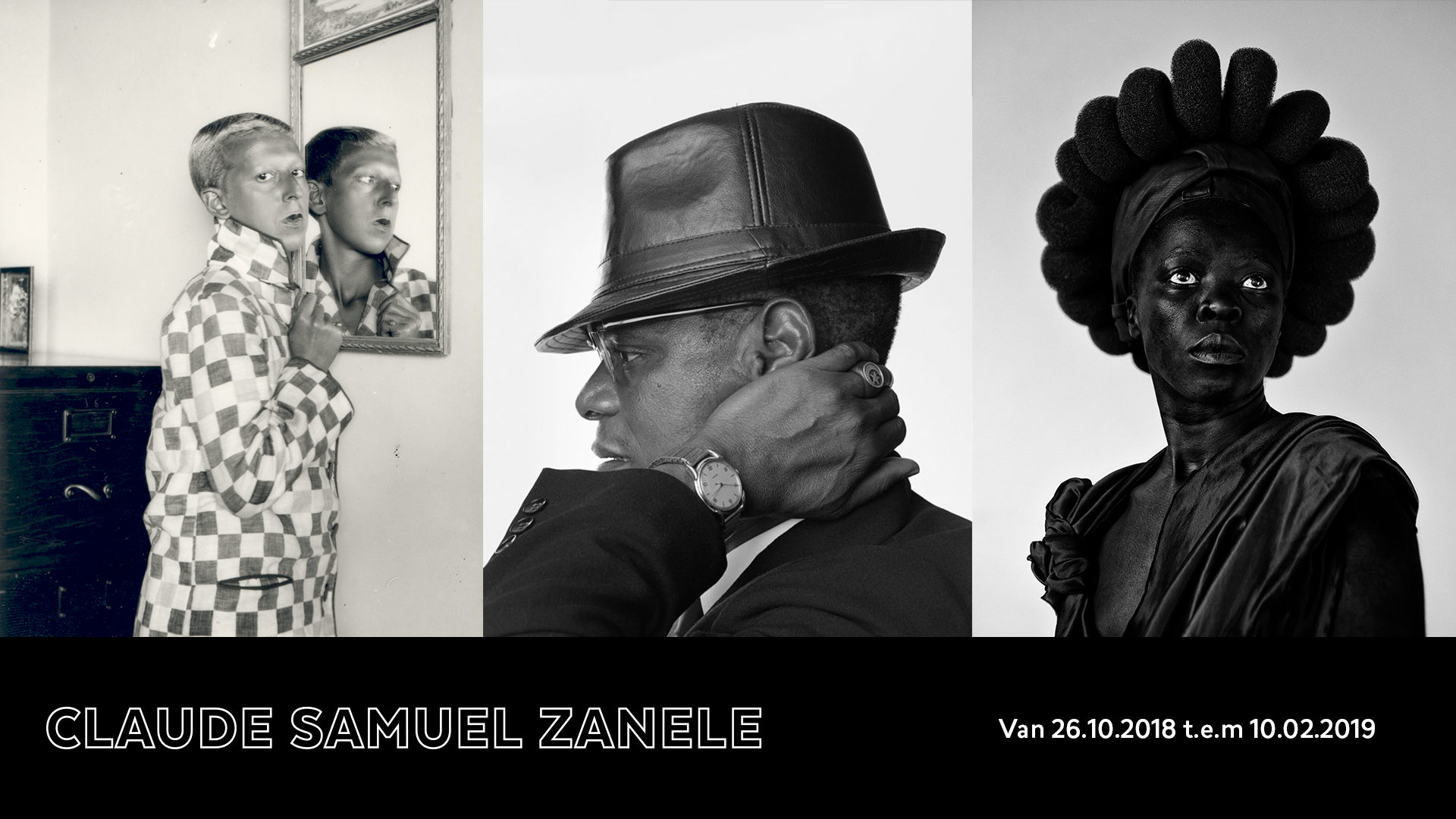 Claude Samuel Zanele
Claude, Samuel, Zanele. Three photographers who train the lens on themselves three times as a window on the world. They each address issues about politics, race, gender and identity in a personal way.
Throughout her life, Claude Cahun (FR, 1894-1954) took photographs of herself that challenged preconceptions about gender and identity. Born Lucy Schwob into a Jewish family of publishers, she is known as a transgender avant-la-lettre, an outspoken opponent of Nazism and an active member of the surrealist art scene.
Samuel Fosso (NG/CM, 1962) started his own photography studio at the age of thirteen. He used remnants of film rolls to take his first self-portraits. Fosso communicates a clear political message by continually adopting new identities. Through his work, postcolonial freedom fighters finally have a place in the museum.
For the series Somnyama Ngonyama, Hail The Dark Lioness, visual activist Zanele Muholi (SA, 1972) uses their own body as a canvas to address personal and cultural politics of race. Each self-portrait, taken in (South) Africa, America, Europe and elsewhere, asks critical questions about social (in)justice, human rights, and contested representations of the Black body.*
* As a non-binary person, Zanele Muholi prefers to use the non-gendered pronouns they/them/their. This exhibition is a partnership with Autograph (London).

Curators: Rein Deslé, Joachim Naudtsen Renée Mussai (Autograph London)
26.10.2018 — 10.02.2019
Bieke Depoorter
Bieke Depoorter (BE, °1986) joined the renowned photography agency Magnum Photos in 2012. She already had an impressive career behind her at a young age. In her first solo exhibition for FOMU, Depoorter reveals a different side of herself: an artist at a turning point in her career. She questions her position as an image-maker and outsider in five separate series, some of which are still ongoing.
While the night and moments when no one else seems to be looking continue to intrigue her, collaboration and dialogue now take centre stage. After years of photographing in Egypt, she returned with a first version of the book, to ask others to write directly onto her photographs. In As It May Be(2017), a dialogue commences between Egyptians and a voice is also given to people who would not otherwise have allowed themselves to be photographed. With the multimedia installation Sète#15 (2015) and the short film Dvalemodus (2017), Depoorter began to conceive her subjects as actors, projecting her own narratives onto factual environments.
Two projects in progress will also be shown at FOMU. Agata (2017-…) is a project in collaboration with a young woman whom Depoorter met in Paris. Both the photographer and the subject become contributors in the narrative. With Michael (2015-…), Depoorter almost finds herself in the role of detective in search of the life story of a man from Portland, Oregon. Following a brief but intense encounter, Depoorter received three suitcases full of collages and scraps of writing, after which the man disappeared without a trace.

Curator: Joachim Naudts
26.10.2018 — 10.02.2019
Collection In Transit
Preparations are underway for the large-scale relocation of FOMU's collection to the new collection tower, the first low-energy depot for photography in Europe.
We are taking this opportunity to present a look behind the scenes at the work that goes into conserving a collection. The collection team will occupy a temporary transit zone that is open to the public.
Collection In Transit allows you to follow the objects on their journey to their new home as they are registered, described and restored. Observe all the aspects of collection conservation in the photography studio, restoration workshops and registration-unit.
Discover the stories – big and small – behind the pieces in the FOMU collection. Witness unexpected discoveries as the team processes a constant stream of old and new material.

Curators: Caroline Vincart and Tamara Berghmans
20.02.2018 — 10.02.2019
Bieke_Depoorter_Bio.pdf
PDF - 61 Kb
Download
Copyright_declaration.pdf
PDF - 34 Kb
Download
Claude Samuel Zanele_ExhibitionText.pdf
PDF - 140 Kb
Download
BiekeDepoorter_ExhibitionText.pdf
PDF - 252 Kb
Download